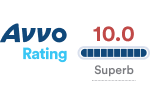 All Virginia Beach DUI/DWI Cases Will Be Handled by a 5 Person Prosecutor Team
Starting this year, all DWI cases in Virginia Beach will be handled by the the same 5 prosecutors (aka. Assistant or Deputy Commonwealth Attorneys). Prior to this year, there was random rotation among all Virginia Beach prosecutors in handling DUI cases.
Client Reviews
Free Initial Consultation
Fill out the contact form or call us at (757) 630-9294 to schedule your free initial consultations.
Want a Free Initial Consultation