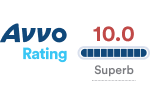 Facing an underage DUI charge in Suffolk can be a daunting process given the potential consequences such as heavy fines, license suspension, and permanent criminal record. Suffolk DUI Lawyer John Naumovski understands the gravity of the situation and commits to representing you effectively. He combines profound knowledge, extensive experience, and compassionate service to ensure your voice is heard and your rights are protected. Our Law Firm is proficient in all nuances of underage DUI cases, striving for the most favorable outcome possible. Attorney John Naumovski who handles Suffolk DUIs, believes in creating strong, strategic defenses tailored to each client's unique situation. Don't navigate this complicated legal process alone – let our law firm help. Reach out to Naumovski Law at (757) 630-9294 for assistance if you been charged with a Suffolk DUI. The firm is here to guide you every step of the way.
Client Reviews
Free Initial Consultation
Fill out the contact form or call us at (757) 630-9294 to schedule your free initial consultations.
Want a Free Initial Consultation